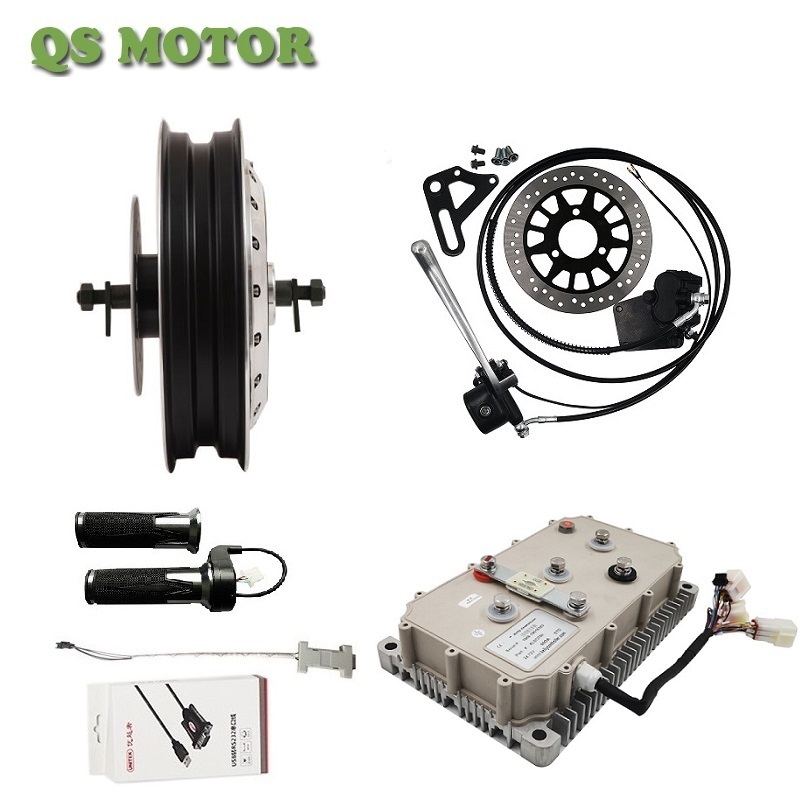 8000W 14inch Electric motorcycle Kits
14inch 8000W 72V Electric Motorcycle Conversion Kits
The parts list as follows,
1pc x QS273 14inch 8000W (50H) V3 Hub Motor
​1set x 220mm Disc brake system with caliper
1pc x Twist Hall Throttle
1pc x Kelly Controller KLS7275H
1pc x Kelly Controller J2 Cable
1pc x Kelly Controller USB cable
QS273 14inch E-Scooter In-Wheel Hub Motor(50H) 8000W V3 Type
Motor Specification:
1.    Motor Type: BLDC Hub Motor with Permanent Magnets
2.    Motor design: Double axle out with 17inch Aluminium rim
3.    Rim size:2.75×14
4.    Matching Tire: 110/90-14
5.    Magnet Height: 50MM
6.    Number of Pole Pairs: 16 pairs(32pcs Curved Magnets)
7.    Rated Power: 8000W V3
8.    Max Power:11250W(Peak 16000W)
9.    Rated Voltage: 72V( 72-144V Can be optional)
10.  Speed: 115km/h (30-120km/h can be customized)
11.  Max No-load RPM:1160RPM
12.  Max Torque: 200N.M
13.  Max Efficiency: 90%
14.  Continious current:130A
15.  Max current:190A ,Peak 260A
16.  Brake type: Disc brake
17.  Rear Fork width for installation: 200mm
18.  Winding Frame material: Aluminium
19.  Cross Section of Phase wire: 16 mm2
20.  Hall sensor phasing angle: 120 degree
21.  Temperature Sensor: Optional
22.  Max. Working Temperature: 70 degree, Peak 120 degree
23.  Waterproof Grade: IP66
24.  Net Weight: 25KGS
25.  Package Size: 58*58*40CM
SINUSOIDAL WAVE BLDC MOTOR CONTROLL KLS7275H,24V-72V,500A,SEALED IP67
Suitable Motor power: 6000W-8000W
Battery voltage range: 18V-90V
Water proof level: IP67
Bluetooth is not included in the package!!
Twist Hall throttle for electric Scooter or Electric bike
Inner Hole diameter  2.3mm
Throttle bar length 15CM
Wires definition
Thin Red wire +5V
Black wire  GND
White wire  Hall Signal
The throttle can be fitted to any electric scooter or electric motorcycle.
The Throttle color will be randam delivery
Disc brake kits