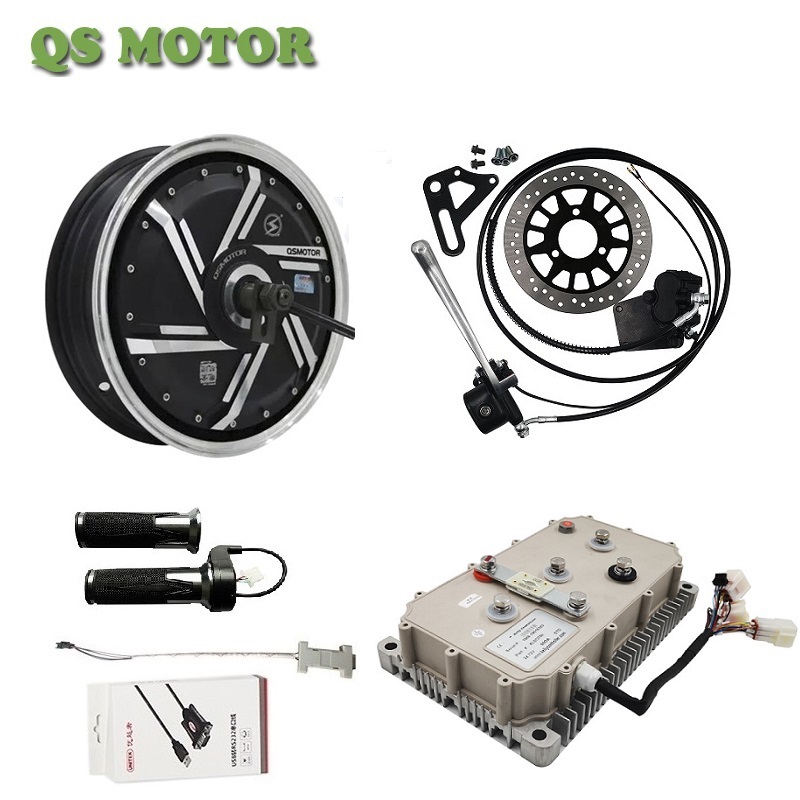 8000W 13inch Electric motorcycle Hub Motor Conversion Kits
QS273 13inch 8000W 72V Electric Motorcycle Conversion Kits
The parts list as follows,
1pc x QS 13inch 8000W (50H) V3 Hub Motor
​1set x 220mm Disc brake system with caliper
1pc x Twist Hall Throttle
1pc x Kelly Controller KLS7275H
1pc x Kelly Controller J2 Cable
1pc x Kelly Controller USB cable
13inch 273 E-Scooter In-Wheel Hub Motor(50H) 8000W V3 Type
13inch Hub Motor specially designed for electric scooters and electric motorcycle, the rated power can be made 2kw,3kw,4kw,5kw,6kw,7kw or 8kw. Max speed can be customized from 30-120KMPH.
Motor Specification:
Rated power:8000W (V3 Configuration)
Wheel size: 13×3.5
Magnet Height: 50mm
Number of Poles: 16 pairs (32 pcs curve magnets)
Max output power: 10390W  (Peak 16000W)
Max speed:110km/h
Max RPM:1360 RPM
Rated voltage:48V-120V can be optional
Continious Current: 129A at 72V
Peak current: 192A at 72V
Rated torque: 98N.M
Max torque:260N.M
Max Efficiency:≥91%
Drop out(Rear fock required): 200mm
Number of motor phase: 3
Hall Sensors: 2 sets (One for spare)
Sensors Phasing agnle: 120 degree
Cross Section of Phase wire: 16 mm2
Tempreture Sensor:KTY83/122
Brake type:Disc brake
Water proof grade:IP66
Net Weight:24kgs
Motor Pictures:
Please choose what side cover design you need,or it will be randam delivery!
Motor drawing:
Motor cable:
Kelly Sinusoidal Wave Controller KLS7275H
SINUSOIDAL WAVE BLDC MOTOR CONTROLL KLS7275H,24V-72V,500A,SEALED IP67
Suitable Motor power: 6000W-8000W
Battery voltage range: 18V-90V
Water proof level: IP67
Twist Hall throttle for electric Scooter or Electric bike
Inner Hole diameter  2.3mm
Throttle bar length 15CM
Wires definition:
Black wire  GND
White wire  Hall Signal
The throttle can be fitted to any electric scooter or electric motorcycle.
The Throttle color will be randam delivery
Disc brake kits