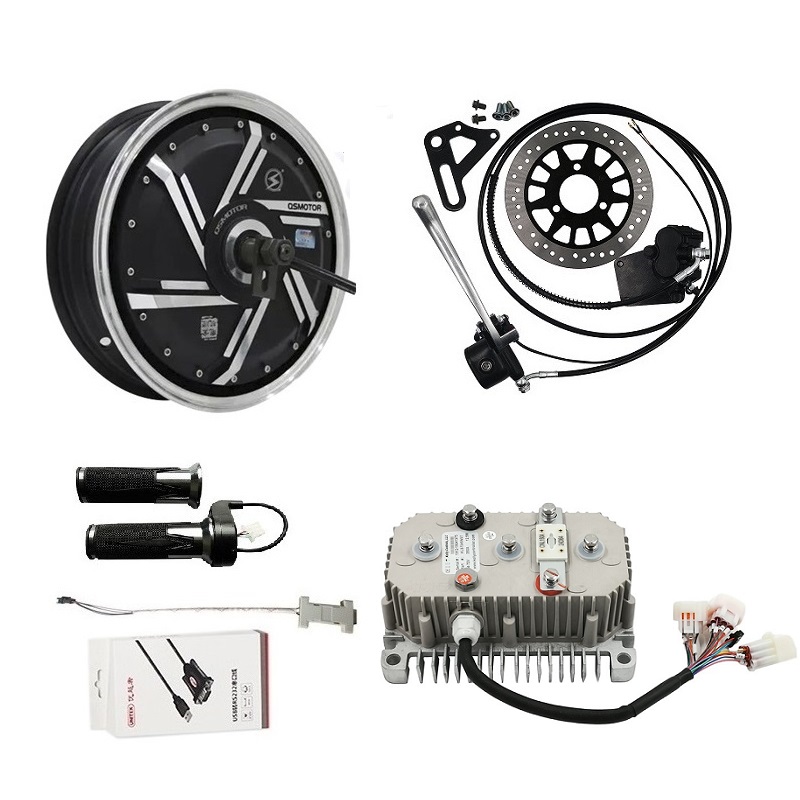 QS273 3000W 13inch Electric motorcycle Kits
13inch 3000W 48V-72V Electric Motorcycle Conversion Kits
The parts list as follows,
1pc x QS 13inch 3000W (40H) V2 Hub Motor
​1set x 220mm Disc brake system with caliper
1pc x Twist Hall Throttle
1pc x Kelly Controller KEB72451
1pc x Kelly Controller J2 Cable
1pc x Kelly Controller USB cable
1.  13inch 273 E-Scooter In-Wheel Hub Motor(40H) 3000W V2 Type
Motor Specification:
1. Motor Type: BLDC Hub Motor with Permanent Magnets
2. Motor design: Double axle out with 13inch Aluminium rim
3. Rim size:3.5×13
4. Matching Tire: 130/60-13
5. Magnet Height: 40MM
6. No. of Pole Pairs: 28 pairs
7. Rated Power: 3000W
8. Peak Power:5200W
9. Rated Voltage: 72V( 48-96V Can be optional)
10. Speed: 70km/h (30-90km/h can be customized)
11. Max No-load RPM:1000RPM
12. Max Torque: 195N.M
13. Max Efficiency: 88%
14. Continious current:50A
15. Max current:100A
16. Brake type: Disc brake
17. Rear Fock width for installation: 200mm
18. Winding Core material: Aluminium
19. Cross Section of Phase wire: 16 mm2
20. Hall sensor phasing angle: 120 degree
21. Temperature Sensor: Optional
22. Max. Working Temperature: 70 degree, Peak 120 degree
23. Waterproof Grade: IP54
24. N.W./ G..W. : 21kgs / 22kgs
Motor Pictures:
Please choose what side cover design you need,or it will be randam delivery!
Motor drawing:
Motor cable:
Key Features:
Matching Motor type: BLDC Motor with Hall sensor
Matching Motor Rated power:3000W-4000W
Voltage range: 30V-90V
Support Multipe Regen Modes
Support Programmable with various functions
Water proof Level: IP66
KLS controller is supposed to reduce the noise of BLDC motor,especially for hub motor.The BLDC motor must be based on 3 hall sensors.Customers can program the KLS controller on PC software or Android App.You may need a Z-TEK USB to RS232 cable for programming the controller if you want to program the controller on Android Tablet.
You have to do Identification angle operation before running the motor for the KLS Controllers.  And it can be done by PC Program or Andriod App(Though Blue-tooth adaptor).
The details progress will be showed in the Manual of the KLS Controller.
The controller comes with USB program cable as default.
If you want the Bluetooth, pls. order it here:
Bluetooth Conveter for Kelly KLS Controller
Features:
1)Intelligence with powerful microprocessor.
2)Synchronous rectification, ultra low drop, fast SVPWM and FOC to achieve very high efficiency.
3)Electronic reversing.
4)Voltage monitoring on 3 motor phases, bus, and power supply.
5)Voltage monitoring on voltage source 12V and 5V.
6)Current sense on all 3 motor phases.
7)Current control loop.
8)Hardware over current protection.
9)Hardware over voltage protection.
10) Configurable limit for motor current and battery current.
11) Low EMC.
12) Battery protection: current cutback, warning and shutdown at configurable high and low battery voltage.
13) Rugged aluminum housing for maximum heat dissipation and harsh environment.
14) Rugged high current terminals, and rugged aviation connectors for small signal.
15) Thermal protection: current cut back, warning and shutdown on high temperature.
16) Controller can do auto_Identification angle for different degrees of hall sensors.
17) Configurable high pedal protection: the controller will not work if high throttle is detected at power on.
18) Current multiplication: Take less current from battery, output more current to motor.
19) Easy installation: 3-wire potentiometer will work.
20) Standard PC/Laptop computer to do programming.There is one more choice for customers to program KLS controller.Standard Tablet with Android OS to do programming.Need a Z-TEK USB TO RS232 cable for connecting the controller to App program in Tablet.
21) User program provided. Easy to use. No cost to customers.
22) Support motors with any number of poles.
23) Up to 70,000 electric RPM standard. (Electric RPM = mechanical RPM * motor pole pairs;Motor pole pairs=Motor poles/2).
24) Dust and water protected under sealed condition,IP66
General Specifications:
•Frequency of Operation: 10KHz or 20kHz.
•Standby Battery Current: < 0.5mA.
•5V or 12V Sensor Supply Current: 40mA.
•Controller supply voltage range: PWR, 18V to 90V for controllers rated equal or lower than 72V.
•Supply Current, PWR, 30mA Typical.
•Configurable battery voltage range, B+. Max operating range: 18V to 1.25*Nominal Voltage.
•Standard Throttle Input: 0-5 Volts(3-wire resistive pot), 1-4 Volts(hall active throttle).
•Throttle Input: 0-5 Volts. Can use 3-wire pot to produce 0-5V signal.
•Main Contactor Coil Driver<2A.
•Full Power Operating Temperature Range: 0℃ to 70℃(MOSFET temperature).
•Operating Temperature Range: -40℃ to 100℃ (MOSFET temperature).
•Motor Current Limit, 30 seconds: 350A, depending on the model.
•Motor Current Limit, continuous:100A, depending on the model.
•Max Battery Current :Configurable.
Controlle size:
Standard Wiring:
Different Models of KLS-NM Controllers,

3. Twist Hall throttle for electric Scooter or Electric bike
Inner Hole diameter  2.3mm
Throttle bar length 15CM
Wires definition
Thin Red wire +5V
Black wire  GND
White wire  Hall Signal
​
The throttle can be fitted to any electric scooter or electric motorcycle.
The Throttle color will be randam delivery
4.  Disc brake kits
This is complete Disc brake system for Electric scooter or Electric motorcycle with rear Wheel Hub Motor.
The system including the Brake disc, Brake handle, Caliper and Oil pipe and cables.
The color of the caliper will be delivery in random,sometimes Purple or Orange!
Some details of the disc brake as follows,
Disc Dia.: 180MM or 220MM
Disc thickness: 3MM
Oil pipe length:2.2M
Oil pipe Dia.: 7MM
Electric wire Length:40CM