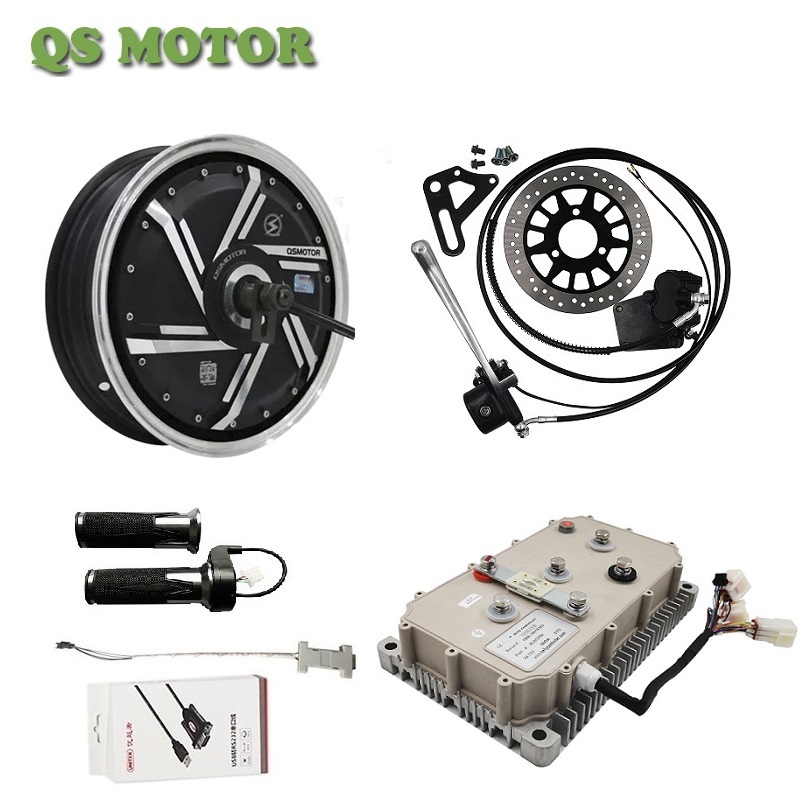 QSMOTOR 8000W 13inch E-Scooter Hub Motor Kits
13inch 273 E-Scooter In-Wheel Hub Motor(50H) 8000W V3 Type
Motor Specification:
Rated power:8000W V3

Wheel size: MT13x3.5"

Magnet Height: 50mm

Number of Poles: 16 pairs (32 pcs curve magnets)

Max output power: 10390W  (Peak 16000W)

Max speed:120kph

Max RPM:1500 RPM

Rated voltage:48V-120V can be optional

Continious Current: 129A at 72V

Peak current: 192A at 72V

Max torque:260N.M

Max Efficiency:≥91%

Drop out(Rear fock required): 200mm

Number of motor phase: 3

Hall Sensors: 2 sets (One for spare)

Sensors Phasing agnle: 120 degree

Cross Section of Phase wire: 16 mm2

Tempreture Sensor:KTY83/122

Brake type:Disc brake

Water proof grade:IP66

Net Weight:24kgs
Motor Pictures:
Please choose what side cover design you need,or it will be randam delivery!
Motor drawing:
Motor cable:
2.  SINUSOIDAL WAVE BLDC MOTOR CONTROLL KLS7275H, 24V-72V, 500A, SEALED IP67
Suitable Motor power: 6000W-8000W
Battery voltage range: 18V-90V
Water proof level: IP67
General functions:
(1)Extended fault detection and protection. Customers can read the error code in PC software or Android Tablet also.
(2)Monitoring battery voltage. It will stop driving if the battery voltage is too high and it will progressively cut back motor drive power as battery voltage drops until it cuts out altogether at the preset "Low Battery Voltage" setting.
(3)Built-in current loop and over current protection.
(4)Configurable motor temperature protection range.
(5)Current cutback at low temperature and high temperature to protect battery and controller. The current begins to ramp down at 90℃ case temperature, shutting down at 100℃.
(6)The controller keeps monitoring battery recharging voltage during regen braking.
(7)Maximum reverse speed and forward speed can be configured between 20% and 100% respectively and separately.
(8)A 4pin connector to RS232 port and a Z-TEK USB to RS232 cable allows for configuration, programming and software upgrades using the tablet which must be based on Android OS now.People can do the same things on PC software by using a standard USB to RS232 cable instead.
(9)Provision of a +5 volt and +12 volt output to supply various kinds of hall sensors.
(10)5 switch inputs which are activated by connection to 12V. Default to throttle switch, brake switch,reversing switch,forward switch and Boost switch.
(11)3 analog 0-5V inputs that default to throttle input,Brake analog input and motor temperature input
(12)Copy signal of one of hall sensors.
(13)Configurable boost switch. Enables the maximum output power achievable if the switch is turned on.The effect is the same as full throttle position even if you don't turn throttle at all.
(14)12V brake switch input used different port from motor temperature sensor.You can use both brake switch and motor temperature sensor functions at the same time on the latest version.Pin 25 is 12V brake switch input port.Pin1 is motor temperature sensor input port.
(15)Optional joystick throttle. A bi-symmetrical 0-5V signal for both forward and reversing.
(16)Configurable motor over-temperature detection and protection with the recommended thermistor KTY84-130/150 or KTY83-122.
(17)3 hall position sensor inputs. Open collector, pull up provided.
(18)Brake analog regen mode.This regen mode doesn't need brake switch to support any more.Only available from software version 0106 or advanced version.KLS controller can not support reflashing firmware by default.
(19)Enhanced regen brake function. A novel ABS technique provides powerful and smooth regen.The regen can happen at any speeds until zero speed.
(20) KLS-H controller included the fuse on the case.Not shunt is attached.
(21) Cruise control.Only can be activated in reversing direction.
(22) KLS-H can support Broadcast type CAN Bus function.It is 250Kbps.CAN bus is not included in KLS-D controller by default.CAN bus is only an optional function for KLS-H.
(23)Bluetooth function.Required a small Bluetooth converter which needs to be purchased in addition from our website.This small converter is only useful for KLS controller.
3. Twist Hall throttle for electric Scooter or Electric bike
Inner Hole diameter  2.3mm
Throttle bar length 15CM
Wires definition
Thin Red wire +5V
Black wire  GND
White wire  Hall Signal
The throttle can be fitted to any electric scooter or electric motorcycle.
The Throttle color will be randam delivery
Disc brake System: