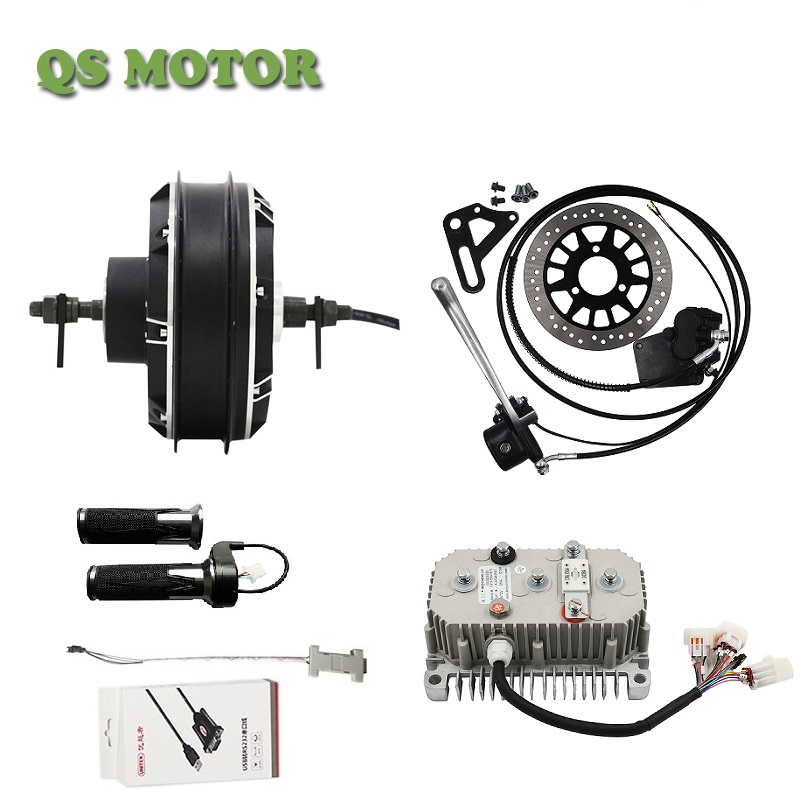 QS205 4000W E-Motorcycle Conversion Kits
QS205 V3 4000W Spoke Hub Motor(200mm rear fork spacing)
Motor Specification:
1.    Motor Type: BLDC Hub Motor with Permanent Magnet
2.    Motor design: Double axle out
3.    Spoke hole: 3.4mm x 36pcs
4.    Matching Rim:The motor not assembled with rim yet, can be laced 17-19inch moped rim
5.    Magnet Height: 55MM
6.    Pole Pairs: 16 Pairs
7.    Rated Power: 4000W V3
8.    Peak Power: 7000W
9.    Rated Voltage: 72V( 48-96V Can be optional)
12.  Max Torque: 200N.M
13.  Max Efficiency: 90%
14.  Continious current:45A
15.  Max current:80A (Peak 100A in short time)
16.  Brake type: Disc brake or Brum brake(Optional)
17.  Rear Fock width for installation: 200mm
18.  Cross Section of Phase wire: 10 mm2
19.  Hall sensor phasing angle: 120 degree
20.  Max. Working Temperature: 70 degree, Peak 120 degree
21.  Waterproof Grade: IP54
22.  Color: Black
23.  N.W./ G..W. : 14kgs / 15kgs
Motor pictures:
Motor drawing:
Kelly Sinusoidal Wave Controller KLS7245N
SINUSOIDAL WAVE BLDC MOTOR CONTROLL KLS7245N,24V-72V,400A,SEALED IP67
Suitable Motor power:4000W-5000W
Battery voltage range: 18V-90V
Water proof level: IP67
Twist Hall throttle for electric Scooter or Electric bike
Inner Hole diameter  2.3mm
Throttle bar length 15CM
Wires definition
Thin Red wire +5V
Black wire  GND
White wire  Hall Signal
​
The throttle can be fitted to any electric scooter or electric motorcycle.
The Throttle color will be randam delivery
Disc brake kits