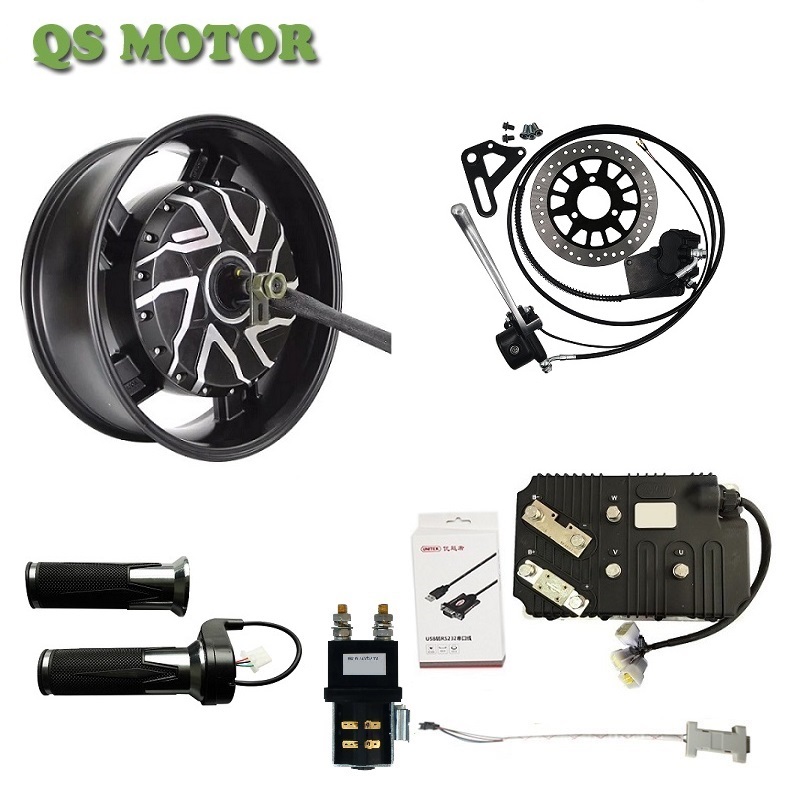 QSMOTOR 12KW 17inch Electric Motorcycle Kits
QSMOTOR 12KW 6.0x17inch Electric Motorcycle Hub Motor Kits
The parts list as follows,
1pc xTwist Hall Throttle
1set x Disc brake system 220mm version
1pc x Kelly Controller wiring
1pc x Kelly Controller USB cable
1pc x 96V 400A Main contactor
QS273 12KW 17inch Hub Motor V4 Type with 6.0×17 Rim
1.  Motor Configuration
a. 25mm2 Motor phas wires
b. Double Hall sensor wires(One is for replace)
c. Brake Disc on the motor(Please indicate if you want it)
d. Motor always NOT attached Temperature Sensor,if you need,please Indicate in the order
2. Motor Speed Choice
The motor can be customzied from 70kmph-130kmph under different voltage as 72V,84V,96V ,120V,144V
Please Indicate what speed and Voltage you need in the order
3. Main Tech Data of The Motor
Rated power:12KW
Wheel size: 6.0×17
Matching tire:180/70-17 to 220/70-17
Magnet Height: 70mm
Number of Poles: 16pairs
Max. Speed: 145kmph
Required rear fork width: 230mm
Tempreture Sensor:KTY83/122
Brake type:Disc brake
Water proof grade:IP54
Kelly Controller KLS96601-8080H 24V-96V 600A SINUSOIDAL BLDC MOTOR CONTROLLER FOR ELECTRIC VEHICLE
Suitable Motor power: 10000W-12000W
Battery voltage range: 24V-96V
Water proof level: IP67

Twist Hall throttle for electric Scooter or Electric bike
Inner Hole diameter  2.3mm
Throttle bar length 15CM
Wires definition
Thin Red wire +5V
Black wire  GND
White wire  Hall Signal
The throttle can be fitted to any electric scooter or electric motorcycle.
The Throttle color will be randam delivery
Disc brake Assembly Kits
The system including the Brake disc, Brake handle, Caliper and Oil pipe and cables.
The color of the caliper will be delivery in random,sometimes Purple or Orange!
Some details of the disc brake as follows,
Disc Dia.: 2200MM
Disc thickness: 4MM
Oil pipe length:2.2M
Oil pipe Dia.: 7MM
Electric wire Length:40CM
Sample motorcycle: